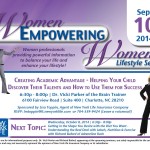 Join Dr. Parker on Wednesday - September 10, 2014 for a seminar on Creating Academic Advantage - Helping Your Child Discover Their Talents and How to Use Them for Success.
This event will be held at 6100 Fairview Rd., Ste. 400 Charlotte, NC 28210 from 6:30pm - 8:00pm. For additional information or to RSVP contact Lisa Toppin at lmtoppin@ft.newyorklife.com or 704-559-9424 (leave a voicemail).
Hope to see you there!